Go Back
Young St. Louis Students Urged to 'Follow Your Dream'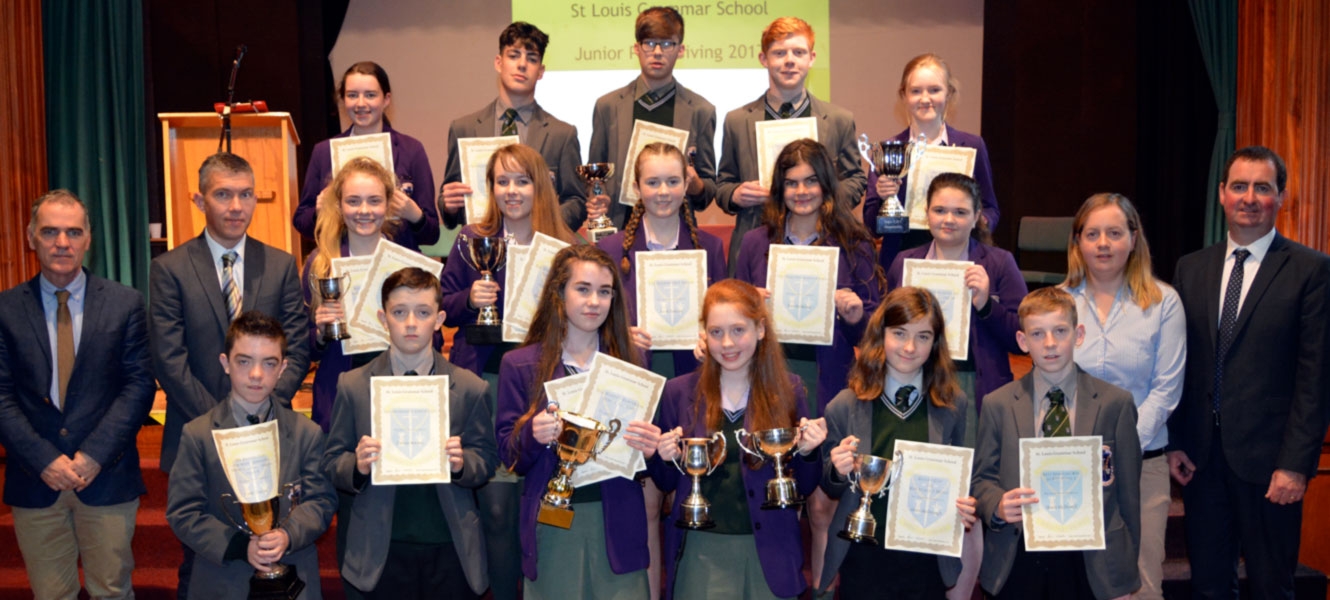 ---
The Junior Prize-giving ceremony at St. Louis Grammar School Kilkeel is always a wonderful occasion which allows staff and students to celebrate the performance of Key Stage 3 students. An important event in any school calendar, Junior Prize-giving is the launch pad for further successes at GCSE and A Level.
Celebrations may focus on academic achievement, but at St. Louis, other aspects of school life namely pastoral and extra-curricular achievements were also acknowledged. Head of Junior School and Pastoral Care at St. Louis, Mr Francis Loye welcomed students to the ceremony, "Junior Prize-giving is an important event in our school calendar. It gives us an opportunity to celebrate the success and achievements of many of our young students in a variety of disciplines and activities". He continued "It is important to recognize the hard work and improvement of all our students in St. Louis. Our junior prize winners are shining examples of the many successful and diligent young students in this community."
St. Louis Principal, Mr Kevin Martin, congratulated the Key Stage 3 students on their magnificent achievements over the past year. Mr Martin highlighted the key contribution of a good work ethic to such successes, "success does not just happen on the day of the examinations. Success requires hard work throughout the year, it requires great focus and dedication, perseverance, self-discipline and a will to learn and succeed". Developing the right attitude during Key Stage 3 will help you succeed later at GCSE, A Level and beyond" said Mr Martin.
Guest speaker for the Junior Prize-giving was former St. Louis student Alise Callaghan. Alise spoke to the students about her dream of becoming a vet during her early years at St. Columban's College and her A Level studies at St. Louis. The success of her A Levels studies afforded Alise the opportunity to study Veterinary Medicine for 5 years at Bristol University. So determined was Alise to follow her dream that she arranged her first work experience placement with Liam Quinn in the Mourne Veterinary Practice whilst still in Year 12. Alise's efforts did not go unnoticed as her impressive work experience report stated 'she was a natural'. Life came full circle when Alise took up permanent employment in the same practice last year fulfilling a life-long ambition of working as a vet in her hometown.
Alise advised the St. Louis students to chase their own dreams, but warned them that they would need to work hard. "To turn your dream into reality takes determination and hard work, to develop the necessary skills and confidence". Alise continued "If you are willing to work hard then you should believe in yourself and aim high".
Written by: News Editor
Go Back