Go Back
St. Louis Celebrate Student Success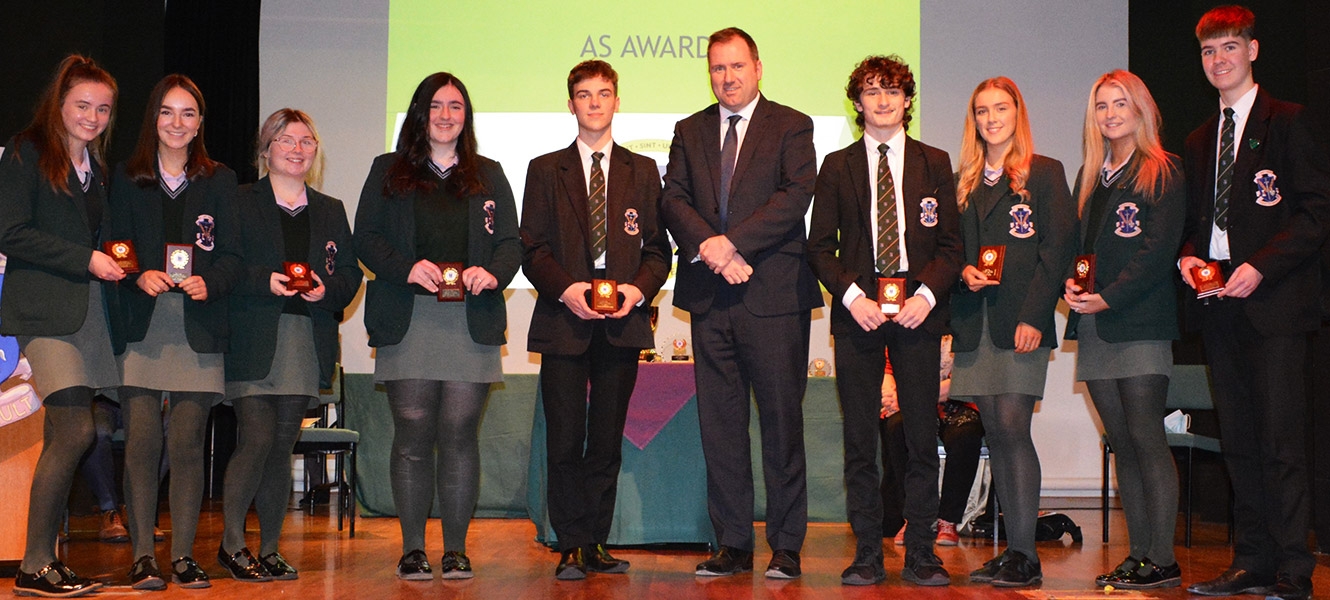 ---
St Louis Grammar School, Kilkeel, held its annual Senior Prize Giving on 20th December 2021 to celebrate the achievements of the students during the last year. The event was attended by year 13 students, guest speaker Bronagh Hinds, plus members of the Board of Governors.
St. Louis Principal, Mr Kevin Martin, expressed his delight and admiration of the way students and teachers have met the challenges of teaching and learning through these challenging times, "The university, college and employment destinations of the recent 'Class of 2021' reflects the unique interests, abilities, talents and aspirations of each individual St Louis student. Over 91% of our UCAS applicants gained a place on a Higher Education Honours Degree Course in August 2021with 89% of our Y14 applicants being accepted onto their first-choice degree course."
Mr Daniel Curran, Vice Chair of the Board of Governors, addressed those present on behalf of the St Louis Board of Governors. He extended a very warm welcome to everyone who gathered to join in the recognition of the achievers. He remarked, "Although our parents, guests and past pupils are unable to join us in person this year, we hope that they still feel part of this ceremony wherever they are." He continued, "Prize Giving is an opportunity to pay tribute to the contribution of all the staff here at St Louis and acknowledge the part they play in shaping the future of the students. We can all sense the pride in the achievements of both. To the pupils who are to receive certificates or trophies congratulations. To those who have left St Louis – we wish you well and hope enjoy continued success, and find happiness on whatever path in life you chose. We hope the education, faith and friendly atmosphere of St Louis will continue to influence you for many years ahead." Mr Curran acknowledged exiting changes that lie ahead, particularly the development of a new school for St Louis and the increase in enrolment numbers, he stated, "What I can confidently state is that St Louis Grammar School, Kilkeel, will continue to grow from strength to strength; it will continue as a centre of academic excellence and meet the needs of all our young people, it will continue as a school that you are proud to be associated with, and it will continue as a school you will want to entrust with your child's education."
Guest speaker for this Prizegiving ceremony was distinguished past pupil, Ms Bronagh Hinds. Ms Hinds who qualified with a Law Degree from QUB, has led a very active life advocating Women's Rights, Civil Rights, Equality of opportunities, Peace, Aid and Poverty, throughout the past 40 years, by participating in and chairing a variety of associated public bodies. After fondly reminiscing on her days at St. Louis, Ms Hinds encouraged current students to be inspired to go wherever they want, but also, "to go with your heart and your passion because that's where you'll achieve the most." Equality, respect, human rights and dignity, were recurring themes as she addressed the student's gathered before her. Ms Hinds concluded by congratulating the students on their wonderful achievements. She also expressed her confidence in St. Louis and the important role it continues to play in educating generations of students by nurturing their talents and skills ensuring they have all the necessary attributes and capabilities to be successful citizens in the future.
Ms Hinds, along with Mr Curran concluded with the presentation of GCSE and AS certificates as well as individual successes and subject awards. The 'Class of 2021' collected their awards and certificates later, at times of their own discretion, in compliance with Covid guidelines.
Written by: News Administrator
Go Back