Go Back
St. Louis Junior Prizegiving Ceremony - "Work Hard and Dream Big"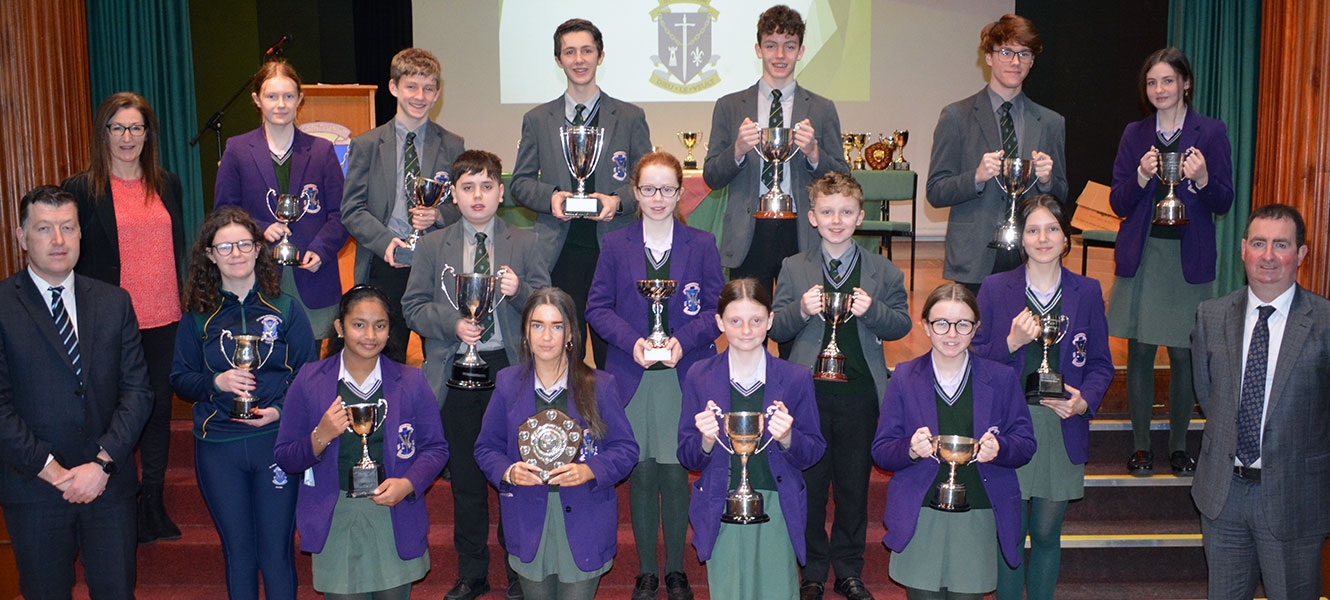 ---
On Friday 17th December 2021, students, staff and guest speaker Natasha Daryaie gathered in St. Louis Grammar School, Kilkeel, to celebrate their successes and achievements over the past year. Mr Brendan Cunningham, Chair of the Board of Governors, welcomed everyone and praised the students on how well they performed over the past year, despite the disruption to their education and learning with the closure of schools. "It is wonderful that we can gather here to reflect on your achievements and successes during the past year, during difficult and uncertain circumstances," he proudly remarked. His thoughts were further echoed by St. Louis principal, Mr Kevin Martin, "We are proud of your work both in and out of the classroom. Your dedication to your studies both at home and in school, your perseverance, self-discipline and your desire to learn and succeed in challenging circumstances must be commended. The achievements of our recent graduates should also inspire you to continue to strive for success and aim high." Mr Martin thanked all the staff of St Louis and parents for their efforts with the students in such times, and expressed his delight that students were back learning together, playing together and praying together, at St. Louis.
Mr Martin welcomed back past pupil and award-winning young entrepreneur, Natasha Daryaie, to speak with the young St. Louis students on the occasion of their junior prizegiving ceremony. Ms Daryaie moved to UUJ to study for her degree in Sports Studies, earning herself a scholarship on the Elite Athletes programme. Through her own hard work and perseverance, she set up her own businesses including Gym Guru, an online fitness programme attracting clients globally from over 20 different countries.
Speaking directly to the students in front of her and those viewing the event remotely, Ms Daryaie expressed her joy in being on the St. Louis stage and that she had loved every minute of her days at St. Louis. She highlighted the value of her old school to her life now, "St. Louis is an institution of warmth and character. It gave me the strength and character, through an excellent education, that many people you meet will not have had."
She thanked her teachers for believing in her, giving her the confidence to follow her dreams. Offering excellent advice to current students, she informed them, "Every action you take here at St. Louis, will shape the person you will become."
Ms Daryaie offered words of guidance to the St. Louis students, "Start speaking to yourself better, step into fear, go with your 'gut feelings' and if you work hard… success will come your way." She concluded with some thoughts that will surely become embedded in the young minds before her, "Live every moment, enjoy every class, work hard and dream big."
Ms Daryaie, along with Mr Cunningham and Mr Martin, concluded the junior prizegiving ceremony by presenting awards to students.
Written by: News Administrator
Go Back