Go Back
St. Louis in the 'Big Apple'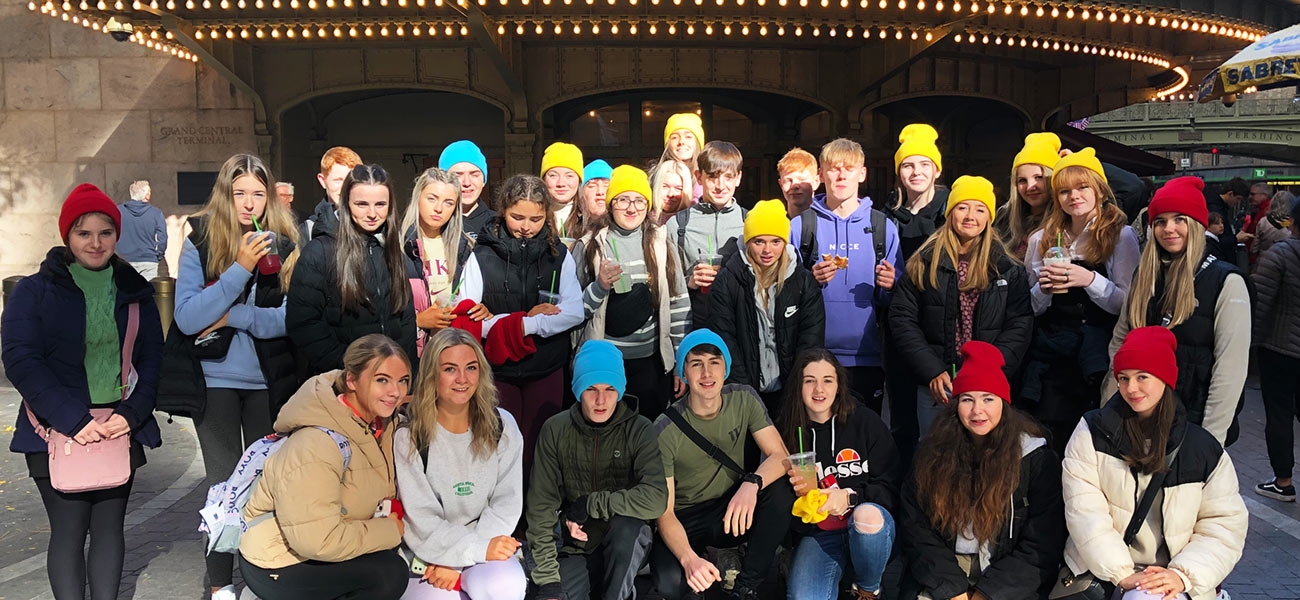 ---
With life slowly returning to a level of normality, school life is also getting back to the fundamentals of teaching and learning, offering great experiences along the way. Geography field trips, Business studies industrial visits, Gaelic football, Camogie are all back in full swing. However, St. Louis have gone on step further…it's gone global.
It is fitting that in our Centenary year St. Louis have crossed the Atlantic and touched down in New York. Led by Ms Hill, Mr Rafferty and Mrs Grant, St. Louis students embarked on the trip of a lifetime, over four days at Halloween. From their base in Mid-town Manhattan the St. Louis group were able to sample the buzz and colours of Times Square, Grand Central Terminal, the Rockefeller Centre, the Museum of Modern Art, the Empire State Building, Guggenheim Museum, Central Park and, of course the Statue of Liberty.
Dinning at famous eateries such as Hard Rock Café, Five Guys Burgers, Famous John's Pizzeria and Ellen Stardust ensured the St. Louis party were well nourished as they experienced American culture first-hand. Travelling on the Subway, getting the ferry from Battery Park to Ellis Island are experiences never to be forgotten.
One of the many highlights of their wonderful trip was the Broadway show 'Wicked'. However, the party were delighted to meet up with a familiar face- past pupil Sophie Colgan. Sophie lives and works in New York as an officer for Irish Affairs at the Irish Art Centre. She spoke to the students of her fond memories of her days at St. Louis with her advice 'Leaning into what your strengths are and making the most of opportunities' resonating well with the young St. Louis students.
Time was set aside for the New York shopping adventure before its was time to set their sights on home with memories and stories to tell of their wonderful four days in the Big Apple.
Written by: News Administrator
Go Back