Go Back
St. Louis Junior Prizegiving Ceremony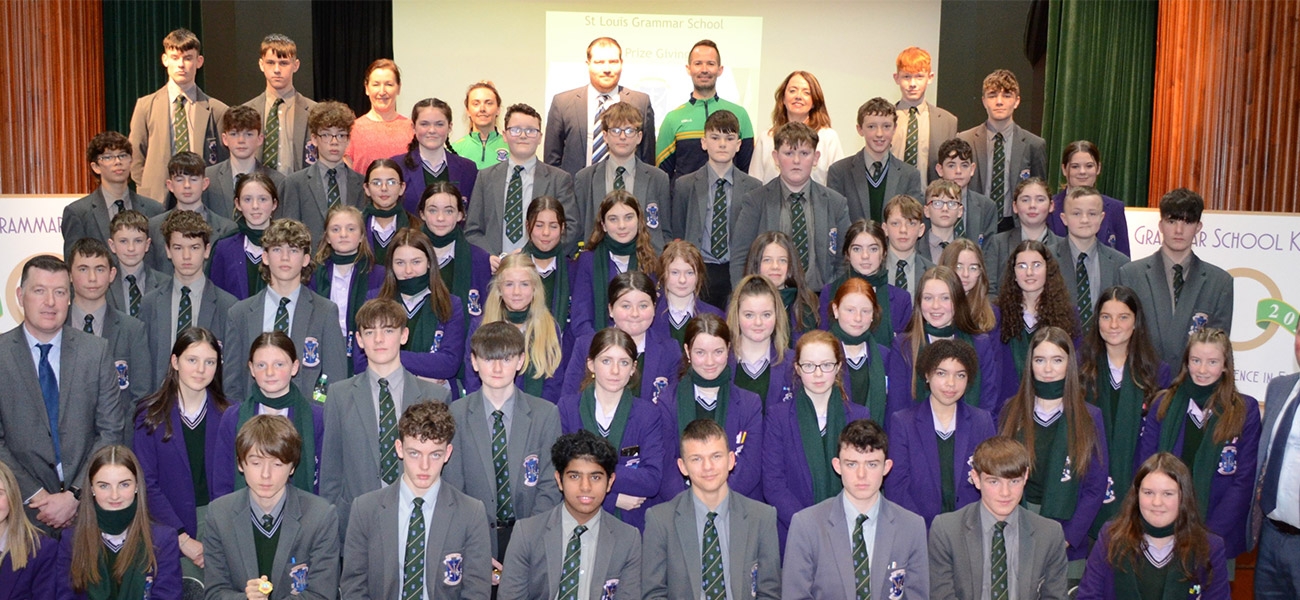 ---
Recently students, staff and guest speaker Mr Peter McGrath (Jr) gathered in St. Louis Grammar School, Kilkeel, to celebrate their successes and achievements over the past year.
Addressing the students St. Louis Principal, Mr Kevin Martin, praised the students for their effort and commitment to their studies over the past twelve months. He referred to St. Louis past students who have graduated from their degree courses and to those who qualified in their chosen trades and being 'success stories' that should inspire the current students.
Mr Martin highlighted their route to success. "If you talk to any of our successful past pupils, their message is always the same, 'success in school or work does not just happen overnight. It requires hard work throughout the year, it requires dedication, perseverance, self-discipline and a passion to learn and succeed in your chosen career'."
Mr Martin praised the efforts of the St. Louis teachers and parents in guiding the students through the difficulties brought about by the Pandemic, but he highlighted the character of St. Louis students during this time. "Despite all of the challenges you have experienced over the last two years, you have proven that you are resilient, that you can work independently and that you can look out for one another. All of which will help you in the future."
Mr Martin welcomed back past pupil and Sports Journalist, Mr Peter McGrath (Jr), to speak with the young St. Louis students on the occasion of their junior prizegiving ceremony. "One such person who exemplifies resilience, hard work and determination is past pupil Peter McGrath an excellent role model."
Currently working in NearyNogs Chocolate Factory in Ballymaderphy, Peter McGrath is also GAA correspondent with the Mourne Observer and a very accomplished GAA commentator for Down GAA TV and Ulster GAA TV. He always had a deep passion for Gaelic games and the written word from his time at St. Louis so it's fitting that he's now able to combine both. More recently he compared the school's GAA Chat Night with such skill expertise and humour, making the Centenary event a great success.
Speaking directly to the students in front of him, Peter highlighted the wonderful experiences he had at St. Louis as a student. He echoed Mr Martin's sentiments in emphasizing the importance of hard work. Peter also asked the students to leave time for those things they really love doing and that they should "embrace your passions."
Peter had sought inspiration from a Newry man who had climbed Mount Everest, Banjo Bannon. As a nine-year old, Peter had sought his autograph and Banjo wrote 'To Peter, follow your dreams'. This was the same message that Peter now wished to pass on to the St. Louis students in front of him. "We all have dreams, and we know that to achieve our dreams we will have to commit to them. So, work hard, recover from set-backs, overcome hurdles and adversity and perhaps your dreams will come true." Peter McGrath, along with Senior Teachers and Mr Martin, concluded the Junior Prizegiving Ceremony by presenting awards to students.
Written by: News Admin
Go Back