Go Back
Careers Convention Success at St. Louis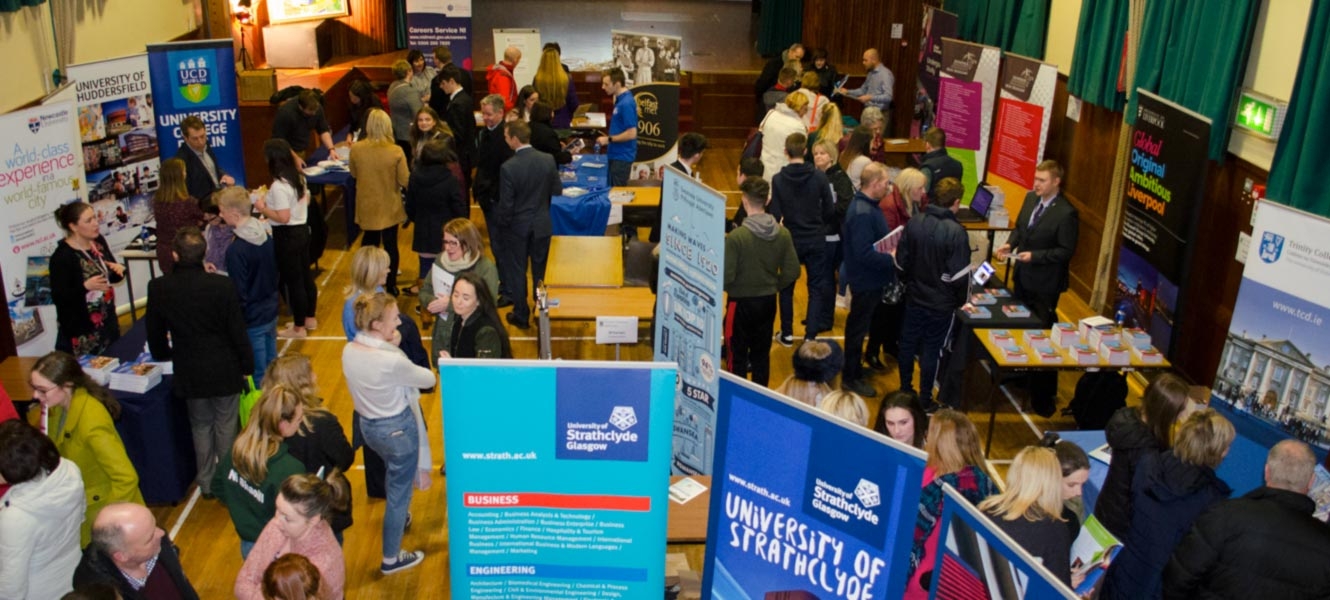 ---
A highlight video of this event is available from our YouTube page: https://youtu.be/DQRo9Wk3jv0
Planning for the future is always a difficult task, even more so when you are 16 and 17 years of age. To examine the range of options available to this age group, the Careers Department at St. Louis Grammar School, Kilkeel organised a Careers Convention where representatives of an extensive array of universities, colleges and businesses offered guidance to students.
Months in the planning, the theme of the event 'Look to your Future' encouraged students to actively research and evaluate all career pathways. St Louis students opened the doors to this event by welcoming students from St Columban's College, Kilkeel High School and other schools.
St. Louis Principal, Mr Kevin Martin, praised Mrs Julie Devlin (Head of Careers) for her vision in organising the Convention highlight its befits to students. "In light of the significant competition for university and college places and future employment, St Louis is particularly keen that students and parents are well-informed of the many and varied post 16 and post 18 options available." Mrs Devlin set out the key objectives of the Convention, "This Convention aimed to support students in making informed career decisions and it offered a unique opportunity for them and their parents to meet with representatives from a wide range of education and employment sectors and gain an insight into current and future trends in the labour market."
Mr Martin expressed his gratitude to the business sector for its support and acknowledge the contribution of local and international companies. Mrs Devlin thanked representatives from Universities and Regional Colleges in the North and South of Ireland, England, Scotland and Wales who have given wholehearted support to the Convention.
Careers advice and guidance throughout the evening was provided by Careers Service NI advisors; Mrs A Mc Polin and Mrs M Knight and by SRC Careers advisor Mrs Nora Sherry.On hand to offer a greater insight into the immediate Post 16 subject choices at St. Louis were teachers from St. Louis subject departments, assisted by subject ambassadors from the current student body and alumni who have returned to offer advice and guidance to students making key career decisions.
The Convention turned out to be a huge success with a massive turnout of students and parents from all over the South Down area. Certainly students left the Convention with the words of Mahatma Gandhi firmly in their minds, "The future depends on what you do today."
Written by: News Editor
Go Back