Go Back
St. Louis Ladies Bow Out in All-Ireland Semi-Final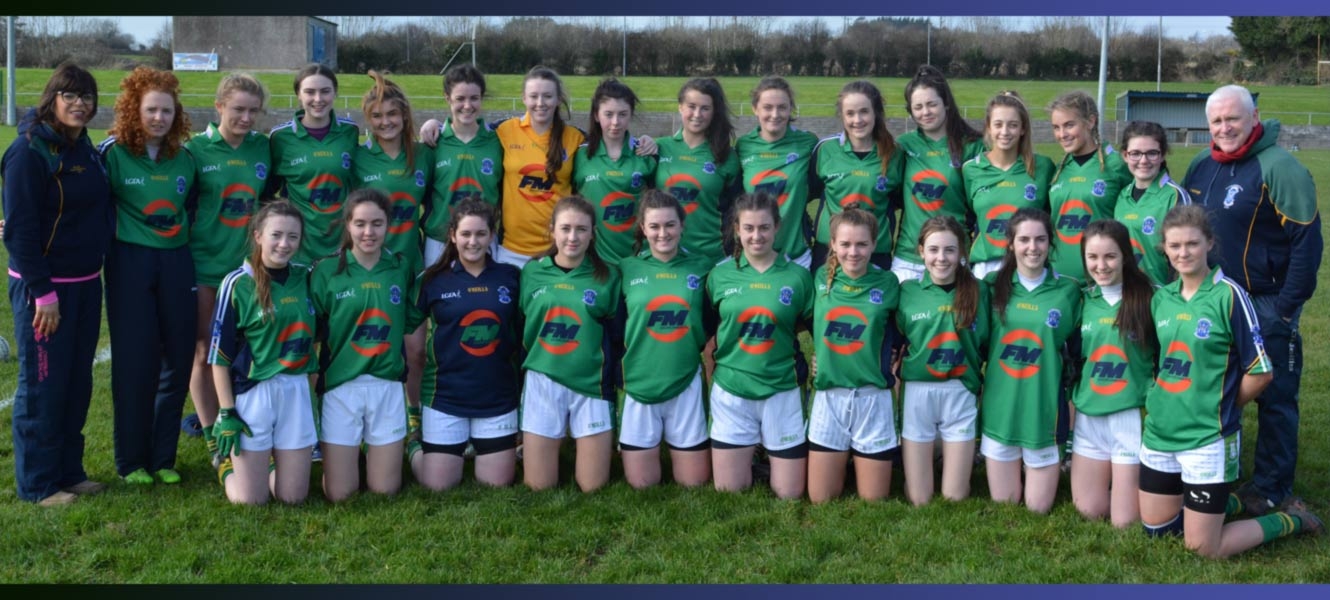 ---
Lidl All-Ireland Post Primary U-20 C Ladies Gaelic Football Semi-Final
St. Louis Grammar School, Kilkeel (Down) 1-03
Holy Faith, Secondary School, Clontarf (Dublin) 5-08
Buoyed by their historic first ever Ulster title in ladies Gaelic football, the girls of the St. Louis U-20 Ladies Gaelic Football team prepared vigorously for the challenge of playing on the All-Ireland stage. The Kilkeel girls had gained in confidence throughout their Ulster campaign, always playing the role as the underdog. However, the draw for the semi-final wasn't that kind to St. Louis as the faced the challenge of Leinster champions Holy Faith Secondary School, from Clontarf in Dublin's north-side. Dublin and Dublin teams have emerged as powerhouse's of the ladies game in recent years and unfortunately for the St. Louis girls, Holy Faith fitted this description quite appropriately.
Played on a glorious spring morning in the Lannliere GAA club (Dunleer, Co. Louth), the Dublin girls got off to a superb start registering 4 points, before Alice McAlea could notch up St. Louis first score. The score-line however, disguised the effort that was being put in by the St. Louis girls as they fought for every ball and thwarted the Dublin girls as best they could.
They large St. Louis following must have believed that their school colleagues were up against an 'A' College side as the quality and strength of the Dublin team was surely greater than one would have expected at a 'C' level Colleges game. Not to be deterred by this, the St. Louis management team rearranged their charges and dealt with the obvious Dublin threat to some extent. However, a combination of good attacking football and some fortunate breaking balls saw Holy Faith add to their score tally with three swift goals and a further 3 points from questionable frees. St. Louis had some chances, but good Dublin defending and nervous St. Louis shooting, left the Down girls with an increasing sense of frustration. For all their effort, the St. Louis girls could only manage another point from a Sorcha McCartan free. Half time score; St. Louis 0-02, Holy Faith 3-7.
The half-time break couldn't come quickly enough for the St. Louis girls as their mentors and supporters urged their players to play to their ability. The message was received and understood as the second half saw St. Louis offer a great threat and resistance to the Holy Faith team.
Despite the early set back of conceding another goal, St. Louis competed with greater urgency, allowing their talents to be more fittingly displayed on this semi-final stage. There were now periods of the game when the Holy Faith girls had to dig themselves out of trouble.
However, perhaps with some good fortune, but mostly with a steely reserve and a very talented group of players, the Dublin girls weathered the St. Louis storm. A ferociously struct free kick from Sorcha McCartan rattled the underside of the cross-bar before stretching the Holy Faith net signalled a comeback was threatening the Dublin team. Indeed, when St. Louis were awarded a penalty at the mi-point of the second half there were some nervous faces on the Holy Faith benches. As luck would have it, a fine save from Meabh O'Hare's penalty probably put paid to any St. Louis fight back. Another point from Sorcha McCartan was scant reward for the greater pressure exerted by the St. Louis girls and to rub salt into a very open wound Holy Faith managed a fifth goal in the dying minutes to give the score-line a reflection the St. Louis girls didn't deserve. Final score; St. Louis 1-03, Holy Faith 5-08.
St. Louis took their defeat in gracious style as each player wished their opponent well in the All-Ireland final. For St. Louis Ladies football it has been a wonderful year as they secured their 'breakthrough' Ulster title success. The Mourne girls have played an attractive brand of football, compliments the great work which is being carried out by the local clubs. The Ulster Schools All-Star Award in Ladies football was a great testament, not just to Sorcha McCartan (she also received a Camogie All-star award), but also to the tireless work being carried on the training fields at St. Louis. As the St. Louis girls bow out of this competition at the semi-final stage, we will surely see more of these girls in the months to come as they seek further success with their county squads and swap the St. Louis jersey for the red and black of Down.
The St. Louis team and scorers:
Maria Gribben (Dundrum), Laura Cunningham (Ballymartin), Ellen Boden (Dundrum), Caitlin Trainor (Ballymartin/Longstone), Megan O'Boyle (Castlewellan), Niamh McDonald (Bryansford), Megan Fitzpatrick (Burren), Ciara Keenan (Ballymartin/Atticall), Emma McVeigh (Burren), Emma Russell (Warrenpoint), Sorcha McCartan (Castlewellan) 1-2, Sinead O'Rourke (Ballymartin/An Riocht), Alice McAlea (Dundrum) 0-1, Meabh O'Hare (Burren/Warrenpoint) Captain) and Maureen McMahon (Rostrevor). Subs; Aine Fearon (Ballymartin/An Riocht) for Boden, Joanna Boden (Dundrum) for O'Rourke, Aoife Murphy(Rostrevor/Atticall) for Keenan, Claire Young (Bryansford) for O'Boyle, Niamh McDowell (Ballymartin) for Russell, Sarah Cunningham (Ballymartin) for Young, Kerrie Grant (Ballymartin), Caitlin Grant (Ballymartin), Naomi Rooney (Ballymartin) and Naimh McKibben (Ballymartin).
Written by: News Editor
Go Back