Go Back
St. Louis Grammar hosts 'Careers in IT Seminar'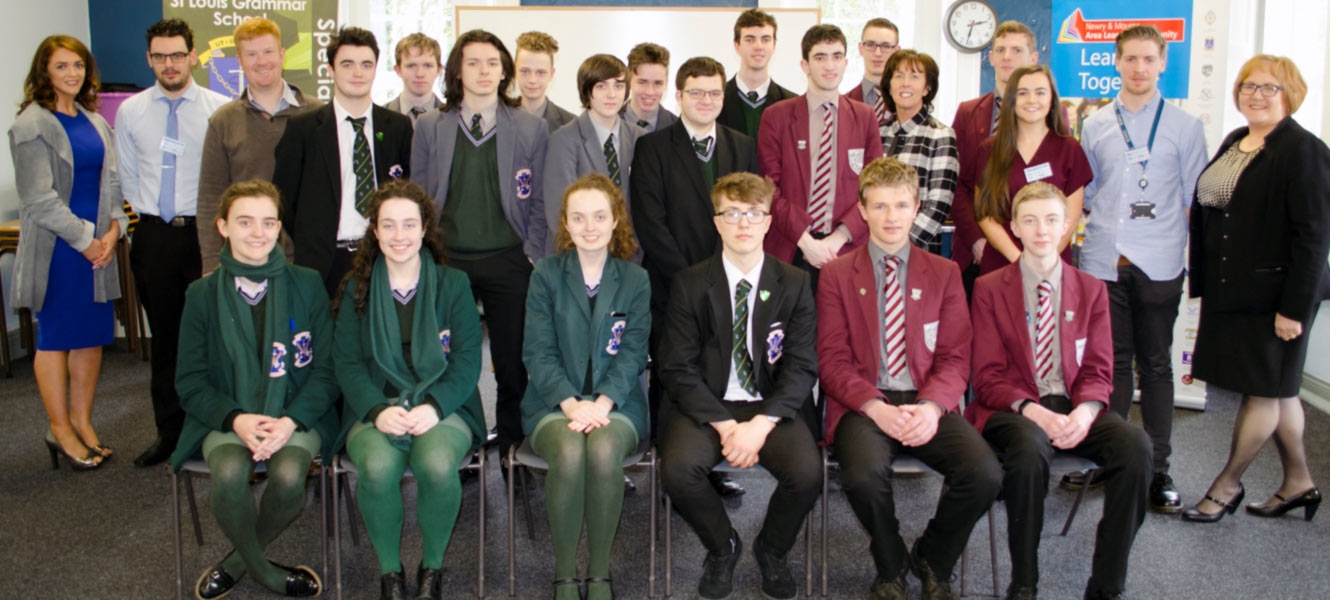 ---
The Careers and IT departments recently hosted a 'Careers in IT' event for Year 13 students in St Louis Grammar and Kilkeel High School who study A Level Software Systems Development and IT. The event was also attended by GCSE Computer Science students.
St Louis is a specialist school for Technology and Computing and over the past eight years has established excellent working partnerships with many large IT companies as well as the Faculty of Computing and Engineering at Ulster University and the Faculty of Electrical and Electronic Engineering and Computing at Queen's University.
Mr Donal O' Hanlon from SENTINUS opened the event and gave a very comprehensive overview of the growth in the IT sector in Northern Ireland providing examples of the many companies currently recruiting graduates as well as higher apprentices, he informed the audience that ICT industry jobs are expected to rise by 86% in the next 8 years. He discussed the array of different qualifications that can provide a pathway into the IT sector and provided the audience with an analysis of the average salaries within the IT industry compared with other sectors.
Dr Neil Anderson from Queen's University of Belfast outlined the variety of degrees available within the faculty ranging from Software Engineering and Computer Science to degrees with a focus on hardware such as Computer Information Technology (CIT) and those with a strong business element such as Business Information Technology (BIT). Placement year opportunities and graduate destination profiles provided the audience with clear evidence of the excellent employment prospects enjoyed by students in these disciplines.
Mr Nathan Mullen, MSST Risk & Control TCO, gave an interesting account of his work within Risk and Controls at CITI and discussed the pertinent and relevant issue of Internet security. He provided an insight into the many and varied work opportunities in CITI and the requirement for flexibility to adapt to the requirements of working in a large global company. As a graduate of Aeronautical Engineering at QUB, Nathan was keen to impress on students the value of transferrable skills.
Ciaran Mulholland, a former student studying MEng Software Development and Electrical Engineering at QUB currently on his placement year with 'Civica' in Belfast gave a comprehensive insight into his career path. Ciaran outlined the factors which influenced his degree choice and the benefits afforded him as a recipient of the prestigious Civica Scholarship which has a net worth of £25,000 with a guarantee of graduate employment. Ciaran also provided students with a valuable insight into one of Northern Irelands most successful companies outlining the wide variety of work and training on offer.
Katie Quinn, a past pupil who studied A level IT and currently a Business Management student at Queen's took to the floor to offer information about her placement year in FUJITSU. During her engaging and interesting presentation, Katie spoke about her involvement in the work experience programme at Fujitsu whilst still at school and her delight in securing work with the company during her university placement year. Working in Fujitsu at their Birmingham Office, Katie outlined her weekly schedules within Service Delivery Management and her role in providing support on large accounts such as TALK TALK and Openreach BT as well as her involvement with OFCOM the industry regulator and the importance of issues such as compliance.
Niamh Donegan, former student and Web Analyst with Allen and Overy gave a highly informative presentation on her pathway from A levels into the IT Industry. Niamh undertook the Apprenticeship route and has successfully completed multiple professional Microsoft qualifications along the way. Continuous professional development has enabled Niamh to gain promotion and as a student of Belfast Metropolitan College, she is a superb ambassador for the apprenticeship route into the IT industry and she offered an excellent introduction to the significant role of IT specialists within an international law firm.
Mrs Marie Mc Mullan, Head of ICT and Mrs Julie Devlin, Head of CEIAG hope that this event will ensure students are well informed about current trends and opportunities in the IT sector and encourage young people to consider a future career in this lucrative STEM industry.
Written by: News Editor
Go Back