Go Back
Spring Break in Paris For St. Louis Students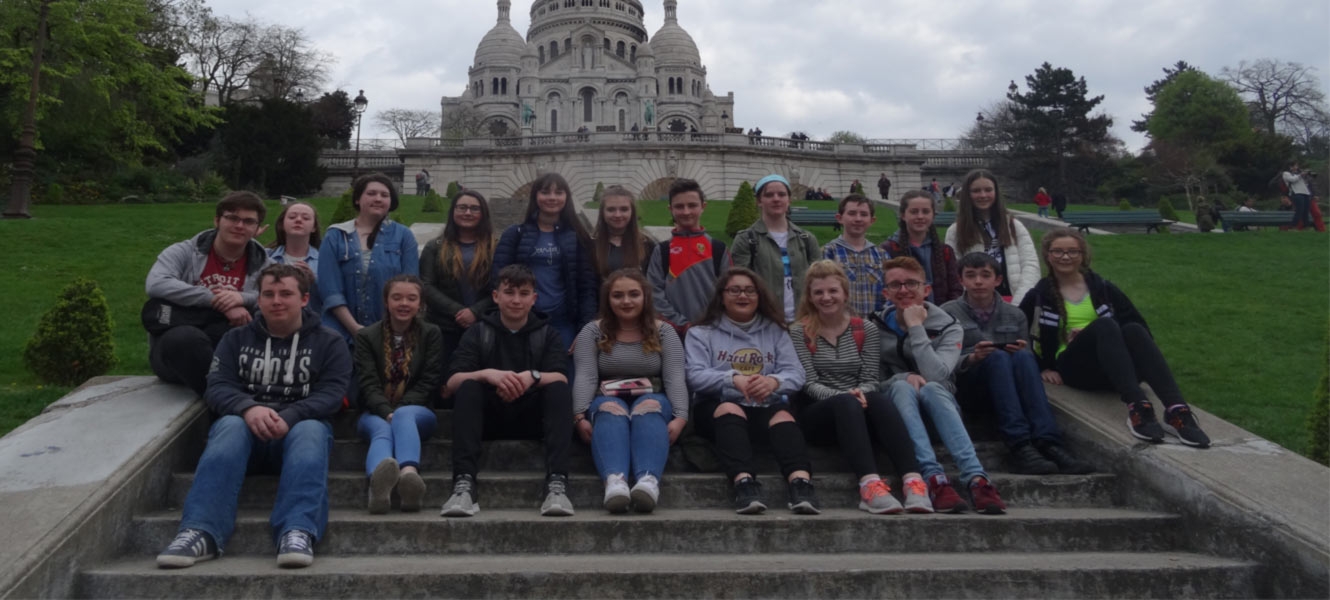 ---
In midst of a stressful run up to exams, with a mounting pile of homework to be completed and a looming pressure of GCSE and A Levels just around the corner, where would anyone have time for trip? Undeterred, a group of St. Louis students from St Louis Grammar School, Kilkeel, embarked on an educational experience that will be remembered long after the joy of receiving top grade fade.
Last week, 20 students- ranging from Year 10 to 6th Form along with two teachers- said 'au revoir' to the chilly weather of the Mourne's and boarded a plane bound for Paris, France, to spend three nights and four days in one of the most beautiful cities in the world.
Year 13 student, Jill Clerkin, could hardly contain her excitement. "What an experience! For many of the students it was their first time leaving Northern Ireland. To be visiting 'boulangerie' in the morning, the 'brasserie' in the afternoon, this trip was undoubtedly an excellent first time abroad."
Jill highlighted the key memorial and iconic places they had experienced. "We famous monuments such as the Eiffel Tower, the Arc de Triomphe and Notre-Dame Cathedral to name a few. However, the St. Louis party were not to be confused as being run-of -the-mill tourists, their aim was to immerse themselves in as much French culture as they could find. Jill explained, "We simply loved exploring the picturesque 'rues' in areas such as Montmartre and the Latin Quarter and sampling the fine cuisine of the country. It's safe to say that for all students, it was a brilliant cultural and educational experience that really helped to bring to life what we only see on a text book at home".
The young AS Level student put this trip into further context, "In completing a school trip such as this one, we come to gain an understanding of what we're actually studying for and a purpose as to why we want to learn it- especially for students that choose French for A Levels and GCSE".
There was, of course, a very practical element to this visit to the French capital, the language! Jill explained, "We gain an insight on where the language is used and see the multitudes of people that use it day to day (and hear some of their key vernacular phrases that earns us more marks on our speaking tests!). We form an understanding of how it developed into what it is today based on the culture it's influenced by and- most importantly, we are shown that French isn't just a bunch or rolled Rs and baguettes".
Despite the immense pressure of her looming AS examinations Jill is adamant about the benefits of this trip. "It's a whole new way of life that is open to anyone with the right amount of time and effort put into learning it- and I feel that a huge amount of inspiration for just that was found on this trip. As a student considering pursuing French at a higher level of education in later years, I found the trip immensely enjoyable as it was my first time ever going to France's capital and personally, j'ai hâte de retourner à Paris un jour!"
Written by: News Editor
Go Back