Go Back
Danske Bank/Ulster Schools Paddy O'Hara Cup Final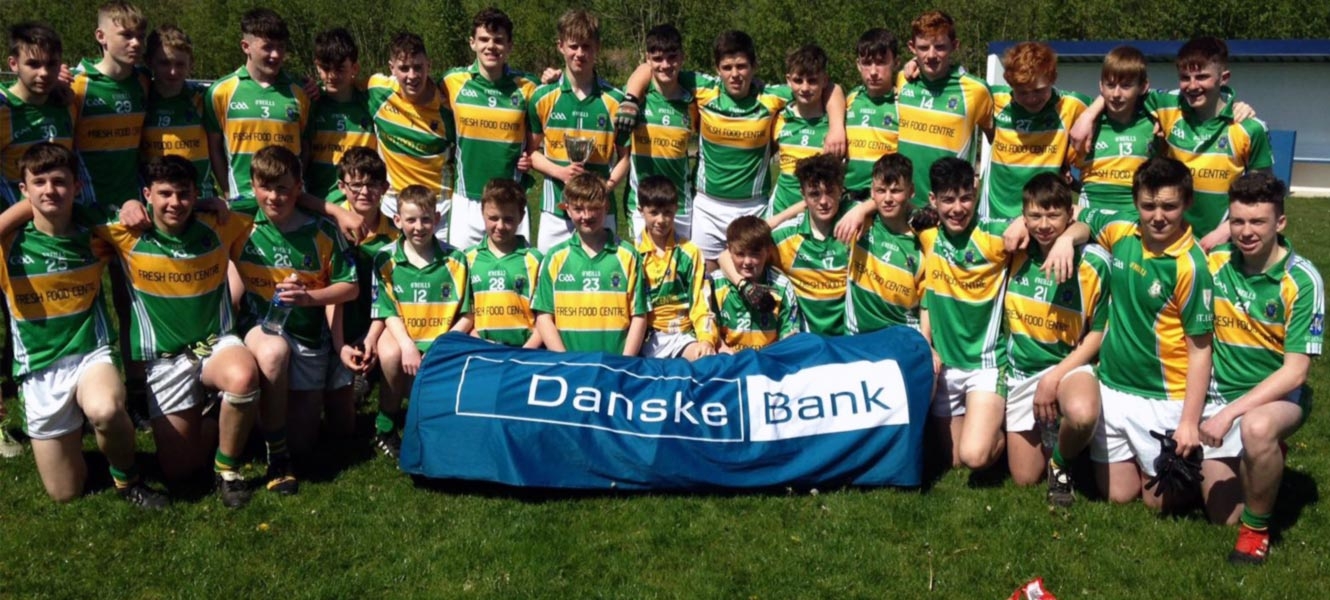 ---
O'Hara Cup Comes to St. Louis
St Louis Grammar School, Kilkeel 3-14
St Columb's College, Derry 2-07
Match report by Peter McGrath Jnr
St Louis made the long journey to Derrytresk on Thursday to contest the Paddy O Hara cup final against a big and strong St Columb's Derry side in resplendent late Spring sunshine.
Despite the clear blue sky a gusting breeze cooled temperatures and allowed for a highly intense, free flowing and energetic game of Gaelic football.
Playing against a first half wind, St Columb's had a number of strong early attacks. Jude Og Moore kicked them into a second minute lead but Matthew Cunningham responded, opening the St Louis account just a minute later. For the next ten minutes a number of potentially dangerous Derry attacks were repelled by the young Mourne charges with Cormac Greene, Dara Murnion and Ryan Mackey standing firm under the early pressure. With ten minutes played both sides had only kicked a single point but a devasting three minute spell from the 12th to 15th minute saw Louis produce a scintillating patch that saw them register two goals and a point and surge into a lead they would never surrender.
After a short Cormac Garvey kick out, Shane McDowell delivered a precise pass to Darragh McKay and despite being double teamed McKay won the ball, cleverly evaded the challenges and slammed the ball ruthlessly into the bottom left hand corner. Tom O Neill followed this immediately with a point and from the resulting kickout Matthew Cunningham broke a ball which he won himself, powered through the defence and hit the net for his side for the second time in three minutes.
Shay Browne offered a response for Derry with a tricky free kick but Shane Fitzpatrick provided a direct response as Cormac Garvey's long kickout carried over the midfield, was won by Tom O Neill who fed Conor Cunningham and he set up Fitzpatrick to convert.
Both goalkeepers made saves that were equally impressive and important in the next few minutes. It was a St Louis break from one of these Cormac Garvey saves that resulted in the ball being under the control of Conor Cunningham who was desperately unlucky to see his measured shot rattle off the flat faced crossbar.
John Rice and Ronan McAleer traded scores but a string of points from Matthew Cunningham, Tom O Neill, Jack Rogers and a superb curling effort from Niall Sloan left St Louis leading 2-08 - 1-02 at half time with both keepers again displaying their prowess late in the first period.
The small birch trees around the perimeter of the field lost a few leaves as the wind gusted strongly but for the start of the second half it settled somewhat, allowing St Louis to start the second half strongly. Matthew Cunningham pointed a brace of early frees and the inspirational midfielder forced a vital turnover that allowed Dylan Nugent the chance to split the posts and leave twelve between the sides five minutes into the second half. Shane McElhinny burst forward from centre half back for Derry to point but Shane Fitzpatrick answered in kind straight afterwards. Jude Og Moore nailed two frees either side of scores from Niall Sloan who drove forward from wing half back and a stunning Matthew Cunningham free taken off the ground from 40metres out into a breeze that had blown up again.
Matthew Stevenson and Moore (free) added points and when Shay Browne hit the net with eight minutes to go to reduce the gap to seven points the game seemed in the balance once more. However, from that point St Louis game management was excellent. The strong Sean Donegan continued to take control from centre half back and in a final minute breakaway substitutes Lorcan Ruane and Aiden Gribben combined to assist Darragh McKay to palm the ball to the net and round off a throughly impressive display from this promising group of young footballers who will now push on to compete in "B" Grade football next year.
The final whistle sparked jubilant scenes among the Mourne lads and Manager Oliver Sloan was delighted by the victory praising the hard work, dedication and team spirit displayed by this young group throughout the year.
St Louis team:
Cormac Garvey, Cormac Greene, Dara Murnion, Ryan Mackey, Dylan Nugent (0-1), Sean Donegan, Niall Sloan (0-2), Tom O Neill (0-2), Matthew Cunningham (1-5, 3frees), Shane Fitzpatrick (0-2), Darragh McKay (2-0), Shane McDowell, Jack Rogers (0-1), Conor Cunningham, John Rice (0-1).
Subs: Aiden Gribben, Eddie Howlett, Thomas Burns, Conor Beeks, Lorcan Ruane, Jack McAstocker, Conor Kelly, James Murray, Oisin Kelly, Jack Houlihan, Callum Merrion, Eoin Killen, Cillian McLaverty, Cian Rogers, Ross Colgan, Matthew Brannigan and Niall Lundy
Written by: Peter McGrath Jnr
Go Back