Go Back
Beauty and The Beast at St. Louis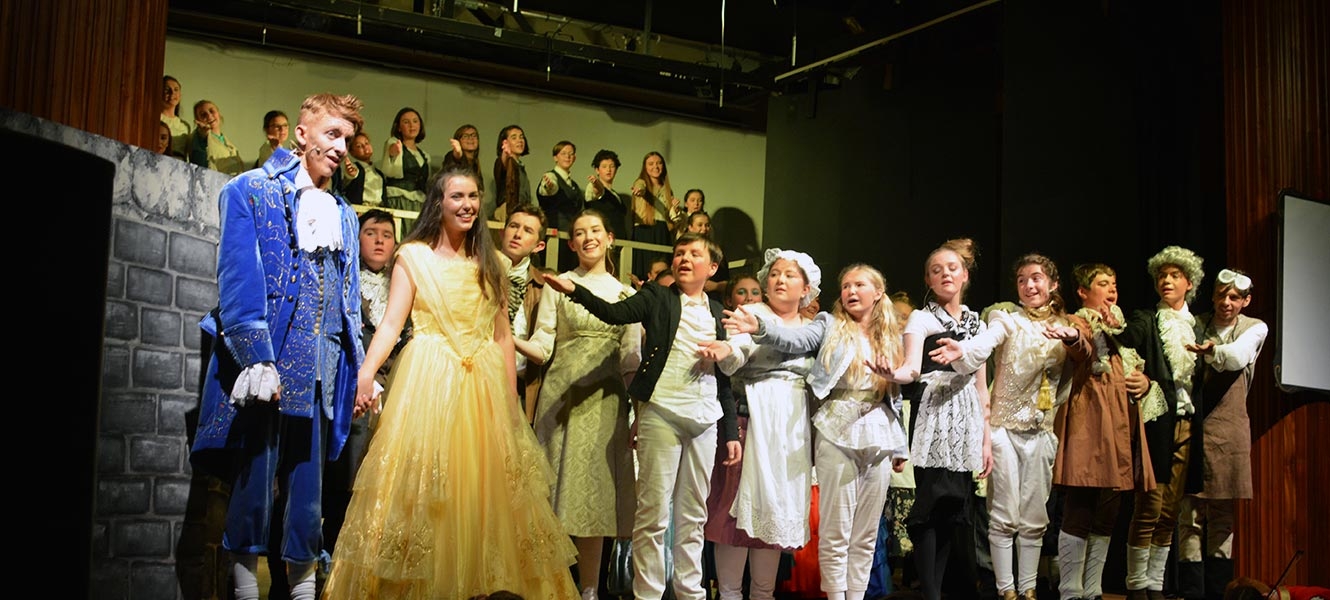 ---
As the chilly winds and shorter days of Autumn descended upon the Mournes, the staff and students of St. Louis Grammar School, Kilkeel, warmed many hearts with their magnificent production of Beauty and the Beast.
Playing to a packed house over four nights (plus a matinee as well for the local primary schools), this musical of magic, love and jealousy was a real treat to all who were fortunate to see it. Directed by Head of Music at St. Louis, Mrs Dearbhla McDonagah and produced by Mr Tim Brown (ICT/Head of Middle School) Beauty and the Beast built further on previous recent success such as Oliver and Grease.
Each night the audience saw Belle (Rachael Goan) fight to save her father Maurice (Mark Kennedy) eventually fall in love with the Beast (Aaron McAnulty). In between, there were many moments of comedy as Gaston (Cillian McLaverty) boasted to all about how wonderful he was, along with his faithful side kick Leiou (Edward Haughian). The magic of the castle gave rise to many recognisable songs, none more popular than 'Be Our Guest'.
Mrs Potts (Catherine Rogers), her twins Chip (Tommy Cunningham) and Tassy (Sorcha McDonagh), along with Cogsworth (Cormac Cunningham) , Lumiere (Oisin McDonagh), Babette (Lucy Sloan), Specchio (Ruairi Murnion), Mme Bouelle (Aoife McQuaid) Chapeau (Finnén McCann) were all present to add humour, through drama, singing and dancing, to this excellent performance.
However, this was a full school show with students from each year group being involved. It would be fair to say that the real star of this show were the entire cast who looked like they were having a great time during their performance. Their confidence grew with each performance culminating in standing ovations each night.
Behind the scenes were many teachers and students helping with scenery, make-up, costumes, drama and choreography amongst many other tasks which ensured the success of the show. Interestingly, the band consisted of several students who have only recently left St. Louis." It is a testament to the connection they have with St. Louis that they took time away from their university studies to give a hand to this production" said a very proud Mr Kevin Martin (St. Louis Principal).
As the curtain came down on this latest musical gem from St. Louis, thoughts may well be anticipating the next production in three years' time. Meanwhile, the cast and production crew involved in Beauty and the Beast deserve a huge round of applause and the opportunity to take a well earned break.
Written by: News Editor
Go Back